Guess what I have?!
The Joy The Baker Cookbook.
Hot off the presses.

I ordered one for me, and one for you.
I spent every last free moment I had this weekend (which really wasn't nearly enough time) curled up and devouring the pages of Joy's new cookbook.
She's so freaking cute, and each recipe feels sweet and unique.
"When I decide to bake something," she says in her introduction, "I think not about the actual item that I want to bake, but how I'm feeling and what I want to re-create: an occasion, a person, a season. It's the emotion rather than the actual item that inspires something beautiful and delicious".
I can't tell you how many of these recipes have my stomach growling and made me want to dash to my mixer and get something started – NOW!
Brown butter blueberry muffins with crumb topping, carrot cake pancakes with cream cheese spread, cinnamon sugar rice pudding, chocolate bourbon spiced banana bread. . .. these are just some of the new recipes never published on her blog.
And there is one book, sitting right here beside mine, waiting for a lucky reader.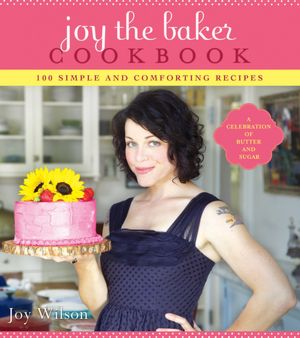 To enter, just leave a comment below telling me what YOUR favorite cookbook is – or heck, I don't really need you to tell me – just say "Hi!" to let me know you're out there, and we'll call it good. For a second entry, "Like" Home is Where the Cookies Are on Facebook and leave a comment saying that you did! The contest is open through Friday at 3pm EST for residents of the USA. A random winner will be selected using Random.org.
Best of luck – can't wait to meet you (or see you again)!
Ready, set. . . comment!!