I am an awesome drawer when I use my finger and mouse pad.
See how smooth those lines are?
Those are some skiiiiiillz!
And now, it's time.
(Thanks for the suggestion/reminder Danguole).
Who doesn't need a t-shirt about pumpernickel bread, honestly.
Now you can get yours
here.
Proceeds go to the new camera fund.
(I'm fully content with the knowledge that this is a want, not a need, so I'm a-ok with it if I go on in life with my trusty point-and-shoot, but dang! If it happens? That would be a peachy keen treat!)
I was kind of in a hurry.
It's simple. Bare bones. No frills or fluff.
Pumpernickel toast looks an awful lot like burnt toast.
But guys – that's the point.
It's all in how you see it.
Glass half full, glass half empty.
Pumpernickel toast, burnt toast.
I'm going with pumpernickel.
Happy Monday.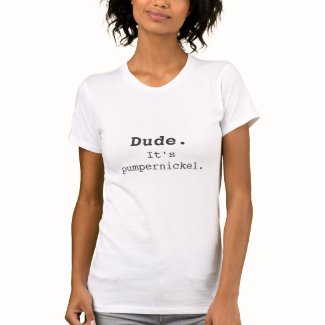 Funny t-shirt for food lover w/healthy perspective
by
WhereTheCookiesAre
Put unique
pictures on shirts
online at zazzle.com