Brave is something I am not.
At least, not voluntarily.
Brave is something I have to force onto myself, like forcing a bath on a 5-year-old boy.
You must do it. You have to do it to keep yourself healthy and strong and growing.
But, after all my 30+ years, and plenty of opportunities to practice at it, I still stink at "brave".
I wear cowardice like an old comfortable sweatshirt. It's my habit, and it's way easier.
Keeping the pot smooth and unstirred?  Shrinking from conflict? Ahhh. My specialties. Those are my secret hiding places. They are where I can breathe. How deep, exactly? Hmm. Good question.
Something has been persistently at my back though, poking me and reminding me that there is more to do, and all the things I fear just don't matter.
Just be brave and lay it all out there.
For months now, I have been writing posts and stashing them away for when I am ready.
You might wonder what and why.
And the truth is that I really don't know.
They are random posts, off-topic and personal, and I've just never been sure I want to go there, here.
But the thing is, this persistent finger in my back – it's still here, poking. 
Just be brave. 
And every time I ask (for the umpteenth time – with my eyes squeezed shut and barely peeking out of one – hoping, hoping that the answer is no. . . ), "Am I really supposed to do this?" the answer is always, (*sigh*). . . yes.
Dagnabit if God isn't pushing me way the heck out of my old comfy sweatshirt.
We're going to dive in, Guys. And I'm taking you with me.
You can read on those days if you want (I'd imagine they will be scattered and sparse), or  you can click away and come back later when we're talking chocolate, or salsa, or slow-cooked something-or-anothers.
Either way, I'm just glad you're here and you keep coming back to check in.
Cheers.
*****
And, yes. Because I've become obsessed with Zazzle, I did make us some T-shirts – in white, plum, and black.
Aaaaand, I went a little overboard and made a necklace too. (Oh no, don't you worry. I have pleeeeeenty of other ideas too. I'm pretty much tuning into a Fanazzletic. That would be a Zazzle fanatic.)
Pop on over to Zazzle and see. Just click on the pic below and the internets will zip you right to where they are. (It may take up to 24 hours from now for everything to show up, so if you don't see it today, try tomorrow too!) Oh, nope! Just checked. They're right here in the store.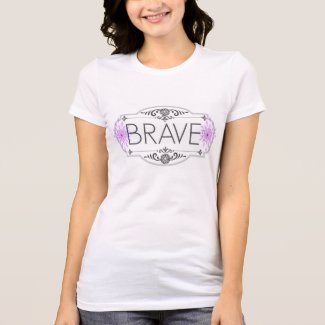 Women's "BRAVE" T-shirt
by
WhereTheCookiesAre
Make shirts
at zazzle.com