Sometimes fashion does a girl a favor.
Like Palazzo pants.
Thank you, fashion people, for dubbing it glamorous to cocktail (cocktail is a verb too, yes.) in high-end psychedelic pajama pants.
And torn blue jeans.
Just. . . yes.
If they're old enough to be torn, they're old enough to feel like sweatpants, even though they're not sweatpants. 
Sweet mother of pearl. Whoever fashion-policed that trend is a genius.
And this season? Talking t-shirts.
Yes ma'am. Shirts with slogans plastered across the front.
I'd like this one ↓ please.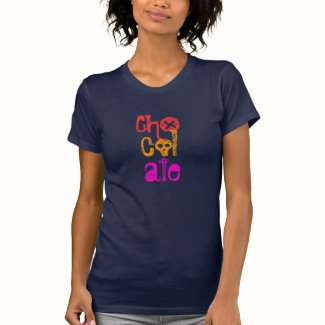 Slogan T-shirt, chocolate
by
WhereTheCookiesAre
Design a t-shirt
at Zazzle
And I'll wear it with leggings and a mini-skirt, even though Michael Kors says no more hideous leggings – a statement with which I agree almost completely, except for when I don't.
Like when I wear them under a mini. Or under a t-shirt dress. Or with a thigh length sweater and buckle-y boots. Or with a t-shirt that proclaims my dedication to life-threatening proportions of chocolate.
I get it MK. I do. I refuse to wear leggings if my fanny is not covered. And I love your new flowy spring line. That actually, is right up my alley. I'm a Boho kind of gal.
One day, I'll have some money, and I might actually buy fashionable clothes.
Until then, I'll keep making up my own rules and carrying on with a five-year lag between my own personal fashion and the fashion world's fashion.
I'm a big fan of the wacky mismatched look too.
My little gal knows where it's at. Tie dye, stripes, and florals all thrown into one outfit. I dig it.
The girl knows how to throw things together.
Just like this recipe I heard her dictating to herself as she stood tip-toed on top of her stool at the kitchen counter the other day:
18 pieces of butter
bread
watermelon.
I'm not sure what this recipe was supposed to make. But it sounds. . . creative?
As for me, I went with this andouille and bean soup instead, starting from a vegan recipe from the March issue of Cooking Light Magazine, and adding chicken – because, well, I'm not vegan, and I like chicken sausage.
So there you have it.
Super spicy bean and sausage soup with some kale thrown in to make healthy people feel better.
I do feel as though a boho dress would accompany this soup well.
It's sort of hippie food – with a carnivore twist.
Chicken Andouille Soup with Beans and Kale
This soup is hearty, healthy and filling. It's also ear-burning spicy! If spice is not your thing, try a different variety of chicken sausage other than andouille, or perhaps ground chicken, and then up the other spices - maybe adding a few dashes of smoky chipotle.
Ingredients
2 tablespoons olive oil
1 cup chopped onions
1 tablespoon chopped garlic
1 (12 oz) package Aidell's Andouille Chicken Sausage, thinly sliced, then chopped
1 (26 oz) carton chopped tomatoes, with liquid
1 teaspoon freshly ground pepper
1/2 teaspoon salt
1 teaspoon dried, rubbed sage
Dash crushed red pepper
6 cups chicken stock
3 (15 oz) cans cannellini beans - rinsed, drained, divided
2 (15 oz) cans low sodium kidney beans - rinsed, drained, divided
2 cups finely chopped kale (reserve some for garnish)
2 tablespoons fresh oregano
splash of sherry vinegar (to taste)
Directions
Heat a large Dutch oven over medium-high heat. Add oil to pan; swirl to coat. Add onion and next 3 ingredients (through sausage); saute 4 minutes. Add tomato and next 5 ingredients (through crushed red pepper). Bring to a boil; cook until liquid is reduced by half. About 1 minute. Stir in stock. Combine 2 cans cannellini beans and 1 can kidney beans in a medium bowl; mash with a potato masher. Add bean mixture and remaining beans to pan. Bring to a simmer; cook 5 minutes. Add kale, cover and simmer 5 minutes. Sprinkle with oregano and fresh kale.
Source
Adapted by Sara|Home Is Where The Cookies Are, from the March 2014 issue of Cooking Light magazine
http://www.wherethecookiesare.com/2014/03/22/chicken-andouille-soup-with-beans-and-kale/
all recipes copyright Home is Where the Cookies Are; www.wherethecookiesare.com
Photo credits from top to bottom: palazzo pants from seller, misty490 on Ebay; torn jeans from Savor Home; Chocolate T-shirt from Zazzle; Boho dress from Shopbop.